The office felt uninviting and utilitarian
Remember our client Annie from her boring guest room turned amazing? Well, we also had the pleasure of working with her on her home office which is right off the master bedroom. When collaborating on this space, we also had the good fortune of Annie's excellent taste and a treasure trove of an art collection packed away in her closets just waiting to be released.
After our adventures in hanging the guest room gallery wall, Annie wanted our help with the office in her home. She explained she used the office all of the time for working, folding laundry and sorting mail, but she also wanted to use it as a space to relax and watch TV after work is done. Annie loved her desk and mid-century rattan furniture (from her mom's old house); however, she said it felt crowded near the desk and wished it could be more organized, inviting and cozy.
We collaborated to make decor decisions in line with Annie's aesthetic
We were excited to collaborate with Annie to transform her home office into a space that was not only functional for work, but a space where she enjoyed relaxing and watching a movie with her husband in the evenings. Before we get into the changes we made, let's take a look at the "before" photos of the office.
We rearranged the furniture to create a more functional and inviting layout
The biggest change to this space was the layout! Annie had originally intended for us just to hang artwork in this space, but we cautioned her to get the layout right before committing to artwork. We didn't think having the desk against the wall under the TV was an optimal layout for many reasons. One morning during one of our sessions, we told her it was time to move the furniture and Annie was game. Pregnant Palmer watched on as all of the shifting happened.
First, we relocated the desk so that Annie's view was of the room and the large window instead of the wall. Also, she'd be able to better see the TV instead of craning her neck to watch while at the desk. This shift also greatly improved the view from the rattan seating. Instead of seeing a desk and office work when looking at the TV, it is nicely organized storage. When sitting at her desk now, Annie can easily talk with her husband if he's sitting on the sofa and can also see/greet her family when they enter the room.
Have we mentioned Annie's art collection yet? Ha! Annie has a WONDERFUL art collection (a skill she picked up from her mom). We helped Annie choose which pieces would look best in her office/sitting room and then helped her hang them (no wicker laundry baskets were used during this hanging session; instead we opted for the more traditional step-ladder option).
Annie spent no money in this room. We simply moved around the items already in the room and brought in artwork and a rug she already owned!
An office transformed without buying anything
Annie, her family, and us Ashleys are thrilled with the office's transformation. By merely rearranging the furniture already in the space, we greatly improved the function and the look of the room. Then using things Annie already owned, we added layers of color, interest and meaning lending a more inviting and cozy vibe to a space in which Annie and her husband can relax.
Annie, thank you for inviting us into your beautiful home. You are delightful company, and your furniture moving skills are as impeccable as your art-hanging skills. Also, please tell baby Annie hi from us.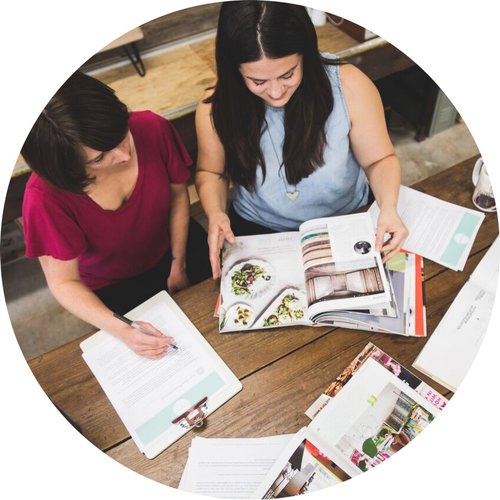 Want help with your home like Annie?
We'd love to do a collaborative, fun styling session with you.