This month's home tour is a special one, the house of Philip and Danielle Fausset-Holmes of Jo & June, a super cute vintage shop in Tulsa's Kendall Whittier District. Ashley and I often sit around wondering what the insides of certain people's homes must look like, and we have definitely mused on the full interior of this couple's home. Their earthy, bohemian Instagram vibe is very alluring.
Did you know, at least in Tulsa, us vintage store owners are friends? We have this great understanding that if one of us doesn't have something someone is looking for at a certain time, the other may, and we want to serve our city in an open and kind way. We all shop one another's shops, and we think that's pretty special. Daly's favorite thing she bought at Jo & June is a herd of tiny brass camels. Crazy cute!
We are excited to share with you photos and an interview with some cool Tulsa folks. The beautiful photos are all by Danielle through her business Wallflower Photography. Tell us your favorite parts of their home in the comments!
When did you start Jo & June? How did it come to be? Jo and June began in 2013, we started doing vintage markets and staging photos to sell things on Instagram and Facebook. We opened our brick and mortar shop in 2015. Danielle has used vintage to decorate since she can remember and I have always been inspired by my great grandma's decor. -Philip
Jo and June are your grandma's names? Yes, Jo is short for Josephine who is my great grandma and will be 101 years old this month! She is a full blooded Lebanese firecracker! June was Danielle's great grandma on her dad's side. -Philip
How did you all meet? We both worked at Reasor's (a grocery store in Tulsa, Oklahoma). The first time I saw Danielle, she just got done with an interview that she had at Reasor's and a mutual friend of ours introduced us, she was wearing flared jeans, a Killers t-shirt and giant earrings. The first thing she asked me was if I wanted to best friends with her, the first night we talked on the phone was for 5 hours, the rest is history. -Philip
How would you describe your personal home style? Vintage, eclectic, middle eastern, earthy (because of all of the plants and rocks/minerals), desert vibes. -Danielle
Where did you all get your passion for vintage? I have always loved vintage! I love that every piece has a story to tell, that its touched many hearts in the past, its almost like each piece has a soul. I have decorated with things that I would get from family or just pull things that were around the house and decorate my room with them growing up! Philip always admired his great grandmas home and when he met me there was no stopping the vintage style takeover!!! -Danielle
What is your approach to incorporating vintage and new into your home? If We love it, and we can afford it, we get it! Most of our personal taste is for vintage pieces, they just call out to us. But we do have certain new things that we use at home. Our sofa is newer, we wanted something really comfy and its harder to find super comfortable and affordable vintage sofas. We also incorporate new books into our home styling. Many of the new things we do have around the house are handmade. A big love of mine is my pottery collection, it incorporates many vintage and newly handmade pieces! -Danielle
Where do you get inspiration from? I think a lot of our inspiration comes from God! He gives us all talents and this is just one of the ones he gave us! There is no rhyme or reason for our style, it just comes! I think nature though is a big part of it too, we love plants and crystals/minerals and we love that pottery is made from clay of the earth or that furniture comes from trees and it all comes back around! -Danielle
Think of your style six years ago and think of your style now, how has it evolved? I was a lot more into mid-century furniture and design and Danielle was very much into rustic and antique. We have always been pretty good at mixing our styles together into an eclectic design though, so even now our home has a bit of all of it! -Philip
Why do you think it's important, worthwhile, to have a beautiful home? Our home is a place of rest for us, a sanctuary of love and laughter. We want to come home to a place that we feel peace in, that when others walk in they feel rest and comfort. -Danielle
How does your home reflect who you are? We are both all over the place, but it works! We are super goofy and wild and eclectic, we like to be different and jump into new experiences! -Danielle
What is your favorite piece in your home right now? I can never just choose one thing! If i had to choose 5....they would be our pottery collection, our plant collection, my crystal collection, a hand carved camel saddle that actually looks like a camel, and our antique cabinet in our bedroom. For Philip it would be all of his plant babies, and our Borge Mogensen leather chair and ottoman. -Danielle
What are five Instagram accounts or blogs that you like right now? @nolongerwonder, @melissamaryjenkinsart, @thejoshuatreehouse, @sugarhousehomestead, @echoranchhouse
What is your favorite thing about Tulsa right now? The community/love between small businesses and creatives! Hands down! -Philip
What is your favorite Retro Den piece? Probably our two blonde wood dining chairs that we've layered vintage sheepskin rugs on! -Danielle
Tell us about your photography business? I have been doing photography for a little over a year. My photography business is called Wallflower Photography. The reason I chose that name is because it's ok to be shy and awkward, even when you're in front of the camera. I love to see the parts about people that are different, unique and silly. When they show me that, I get to capture the best side of them! I specialize in portrait photography. I also really love photographing mom and pop shops, art shows, hand crafted goos and homes! You can check out my website https://www.wallflowerphotog.com and my instagram is @wallflowerphotog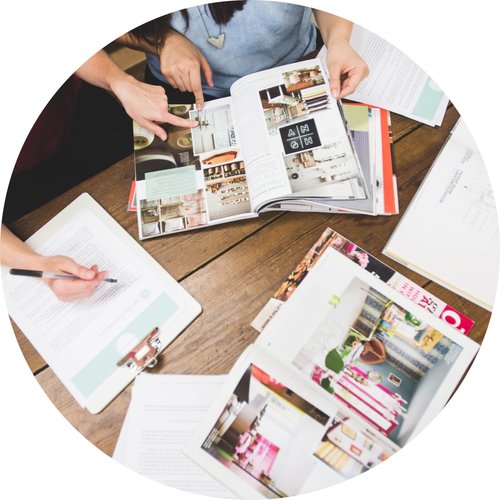 Start thinking about your home and its future!