Have we a treat for you! This 1978 ranch house in Tulsa, OK, boasts high ceilings, large windows, and open concept living. The previous owner updated the house about five years ago and though not all of the updates are in line with the house's aesthetic, the current homeowner's decorating style has truly brought out its beauty. Please enjoy the Q&A and tour below!
What do you love most about your space? I love the openness of our home. The kitchen, dining room, "piano room," and living room all open to each other and the best feature of our house can be seen from all of these rooms—our floor to ceiling south-facing windows.
What is your favorite home project you've completed? Replacing light fixtures. When we moved in, most of the light fixtures were quite gaudy (think crystals and sponge-painted texture) so one of the projects that we tackled immediately after moving in was replacing those. We chose fixtures that were a bit more modern. The large chandelier in our living room was replaced with a minimal ceiling fan to help move the air around in the large space. More beautiful and more functional.
What's the biggest design challenge you've faced decorating your home? My husband. Yes, I said it. We don't have the exact same taste, so decorating is always a compromise. I don't love the color of paint on our living room walls (not including the fireplace wall—love that white), but my husband does so I lost that battle. I also have fallen out of love with our sofa and would like to purchase a new one, but my lovely husband is very much of the "if it's not broken don't fix it" mindset (which I usually love about him). On the flip side, he isn't a plant lover, but he obviously compromises on that front.
You have so many plants in your home. Any tips for caring for them? I am by no means a plant expert, but I am a plant lover who has figured out a pretty good system for indoor plant care.
1. Get plants that work for the light you have in your home. I'm lucky to have a lot of south-facing windows in my living room, so most of my indoor plants live there. In our dining room which gets significantly less light, I only have a philodendron since I know he can survive without getting tons of sunlight.
2. Set up a watering schedule. I use Google calendar with reminders for watering my plants—some monthly, some weekly—to help make sure I stay on track.
3. Get plants that you can keep alive. I will never purchase another airplant because I just can't keep them alive. It took a bit of trial and error to discover this about myself, but there's no use in fighting facts.
How would you describe your decorating style? Pretty simple, but just interesting enough. Is that a style? My husband definitely prefers minimal and modern design, but I like to add a bit more color and texture. While I do usually prefer clean lines, I'm not typically looking for a particular style when shopping for my home. If I see something I love and I need it, I will try my best to get it!
What home projects would you like to complete in the future? I want to give our bedroom a little makeover. It has gotten the least love out of all the rooms in our house so far. I want to reupholster the headboards (a DIY that I did for our previous house), add more art above the bed, paint the walls, add a big rug, add wall shelving, and I can't wait to get rid of that boob light. I also have big dreams of adding built-in cabinets and shelves on both sides of the living room fireplace.
Where do you get inspiration for decorating your home? Design Sponge, Thoughtfully Thrifted, Orlando Soria, and random searches on Pinterest
Why do you think it's important to have vintage pieces in your home? Balance and character!
Why do you think it's important, worthwhile to have a beautiful home? I am a huge homebody and being in a space that I think is beautiful is very comforting to me. It takes away the anxiety of the day and helps me to relax!
Favorite places to find furniture and home decor in Tulsa? Retro Den, Jenkins & Co, Jo & June, estate sales (I'm just starting to get on the estate sale train—so fun!), thrift stores, DIY, family. Most of the furniture that we've gotten since moving into this house has come from Retro Den, which we've mixed with pieces from our past. Our dining room table was made by my husband and the mustard chairs in our bedroom are from my husband's grandma—sometimes you don't have to look too far for the right piece!
Favorite Retro Den piece? I have a three-way tie. #1 is my big a** pink rug! That 9x13' beast helps so much to fill up our large living room and make the room feel cozier and pulled together. #2 is the side table between the blue cube chairs in our living room. The design of that table makes me so happy—simple yet interesting. And finally, #3 are my orange dining room chairs. They give the kitchen/dining area the perfect pop of color and character.
What do you love about Tulsa right now? The people, the beer (new breweries all the time! yay!), the food, the art, and the soon-to-be Gathering Place. So much to love about Tulsa!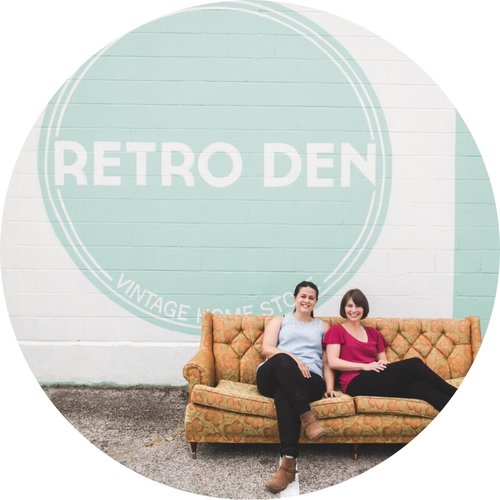 We do fun, collaborative interior design!
We want to come to your house!