Home Design Ideas Can Reflect History And Make Meaning
We love Molly and Tyler for a lot of reasons–they are customers, friends, Molly has taken both our family's portraits, she made our home styling video, they are just so very nice. Molly is a photographer and Tyler is an artist who works with bugs and chemicals. Check his work out–it's fascinating.
About a year ago, the Thrasher's house burned down. Our Tulsa community and the online community they have gathered around them, and they went forward. Read more about that experience here. We had just been to their house working on a video project a month before the fire and asked if we could do a home tour. We didn't get to capture their first home's beauty on film, but we got to come over and experience their new space and it is gorgeous, a reflection of their past and their future. It's just right. Enjoy this interview with two folks who have truly grappled with the definition of home and get ready to drool over their thoughtful space.
Photos by Molly Thrasher Visuals unless otherwise noted.
Are you both from Tulsa?
Molly: Yes we are both from Tulsa. Born and raised. Ty went to college in Missouri for 4 years but I talked him into coming back ;)
Define home, what does home mean to you?
Molly: Home to me means a safe place to be completely relaxed in. And a warm place to host others and make them feel welcome.
Tyler: Your home should be any environment that you feel entirely comfortable in. You should just be able to feel genuine, to feel like you can let your guard down. And I don't think a home has to be anything with walls, I think your favorite park can give you that. Or I have friends that give me a sense home, there are definitely people in my life that feel like home.
Do you think your definition of home has changed after your house burnt down last year?
Molly: I don't think mine has really, my goal in rebuilding was for it to be open and inviting and peaceful. So I feel like that's along the lines of my definition of home before.
What are your favorite things about your new home?
Molly: The brightness, the openness, the little bit of character of the original house that's still worked in. Our story and how intwined this house is into that story.
Name a few pieces that survived the fire and are still in your home?
Molly: A marble end table and a teapot that were my great grandmas, the original hardwoods (mostly), some of the artwork that was framed, a box of keepsakes from my childhood, my camera, Tyler's Pokemon cards. Haha!
Remember when I asked if you like your house before or after the fire better and why? I am asking you that again here.
Tyler: I like the house better after the fire because it's prettier, more 'us'. And I feel like it kind of resembles a quiet contentment that I didn't have a grasp on until we lost everything.
Is your home a mix of both your styles? How?
Molly: I think it definitely is, and I think that style has grown together since going through the process of the rebuild. We decided together that we wanted a more minimal, art focused home. But if you look closely, you can tell what's mine and what's his on some things–the crystals and bones are his, the poetry and quotes and pressed leaves are totally mine.
Tyler: There are rooms where I get to have my collections, and there are rooms where she gets to have her breathability. We both like each other's styles, I think that's what works. The spaces that cater to her don't bother me at all, and vice versa. We have areas that we need to remind each other of who we are separately, and we're both totally okay with that.
How would you describe your style?
Molly: Simple, heavy with nature and art influence, classic with some hipster things worked in.
Tyler: I think my style is living in a tiny museum, mainly having a space to look at all of the pretty objects that I like. I like to collect things and having a house gives me a safe place to collect things.
What is the role of art in your home?
Molly: It's important for us to be inspired in our space, since we both work from home and simply because that is a key factor in our home feeling like ours. We love our art collection because it's a lot of work from people we've gotten to know and respect so it's really cool to see their work and think of that lovely hike with them, or the perfect coffee date talking about artwork. And the other half of our collection is from the kindest souls who contributed to rebuilding our sense of "inspiring home" after the fire and sent us free artwork.
Tyler: Art is a community based thing, and I've never felt more connected to others than when I have their work in my house. It's like having friends over for dinner 24/7 but you don't have to talk to them the whole time. It's healthy to be surrounded by other peoples' definition of beauty. I think it builds good character to have other peoples work and what they define as beautiful surrounding you. Just to have their message right there.
What is the role of plants in your home?
Molly: It just makes minimal style feel less sterile to me. Plus I grew up around house plants and gardens, so it's hard for me to feel at home without some green.
Tyler: Besides providing the aesthetic, it's a living thing and it makes you practice patience. The whole point of having a house is to take a place and slowly make it yours and plants are really good at that.
What is your favorite room and why?
Molly: So hard to answer. I think the sunroom is one of my favorites, because it's where the fire started and it's one of the most different from the rebuild, we added 5 windows and lovely flooring and hung tons of the artwork that was gifted to us after the fire. So it just has great vibes going on in it. And lovely light.
Tyler: Probably the living room. It just feels like an excellent showcase of our style. It's the perfect example. If we could do any home, it would be like that room.
What do you love about Tulsa right now?
Molly: We love the size of Tulsa. We just came back from San Francisco so grateful for the perfect size of our hometown. We breathed a shared sigh of relief when we landed. Tulsa is small enough to get around comfortably, and big and diverse enough to not be boring.
We also love the community here; we know so many amazing, creative, kind, hard working people that make up our circle.
What is your favorite Retro Den piece?
Molly: Our favorite thing about Retro Den is the plants, the handmade goods and the lovely Ashleys.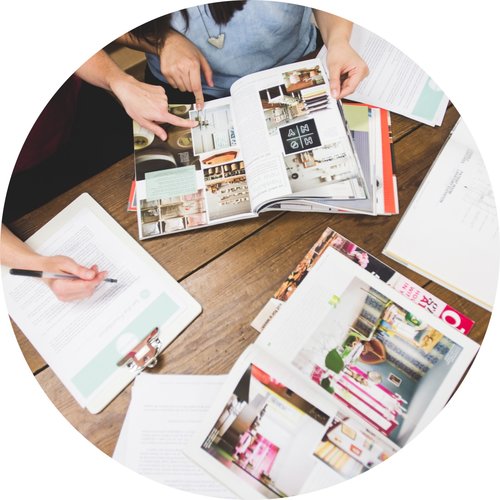 The survey we give our home styling clients to help them get to know their homes better!