Rachel Galbraith and her husband have lived in their 1950s Tulsa ranch home with their three young children for over three years. During this time, they have completed repairs and a few renovations to the older home and have decorated to reflect the lifestyle of their young family of five. When Daly and I stepped foot into Rachel's home, we couldn't believe our luck. It was clear Rachel had carefully collected and beautifully decorated her family's home with vintage and handmade pieces. Her home was so full of light with an attractive mix of warm colors and neutrals, lovely, worn vintage rugs, and whimsical artwork. With so many thought-out details in the home, we are beyond excited to share this beautiful home tour and Q&A with you!
What do you love most about your space? The thing that I fell in love with was all the windows in our house! I love all the natural light that comes in. And the house needed some repairs, so I knew I could put my stamp on it.
What is your favorite home project you've completed? We just completed our tiny master bathroom reno, so currently that is my favorite!!
We love all of the floral artwork in your home. Can you tell us where and how you've collected it? I have had a lot of fun collecting art for my house. I've gotten art mostly from thrift stores around town and then also from Etsy. I like to find Etsy prints and put them in vintage frames.
We know you love thrifting and vintage shopping–tell us about your favorite find. I have too many to pick!! I am really proud of my vintage dish collection. I also love the vintage rugs I have in a couple rooms.
What tips can you give to someone trying to decorate on a budget? Favorite places to find furniture and home decor in Tulsa? I love to go thrift shopping at least once a week. I frequent Community Thrift at 31st and Mingo, Salvation Army, Goodwill and Habitat for Humanity Rack. Also Estate Sales, I like to scope things out on the first day and then go back on 50% off day and see what great deals I can get!
Where do you get inspiration for decorating your home? I like to search pinterest for key words like eclectic dining room or minimal bedroom and see what the search brings up! I enjoy getting design books like Styled by Emily Henderson, Domino; Your Guide to a Stylish Home, Design Sponge at Home, those books are filled with amazing ideas and they make great styling props!
What are your favorite design blogs and/or Instagram accounts to follow? Right now I am loving Little Green Notebook by Jenny Komenda, insta @jennykomenda. She has so many inspiring rooms and I love her mix of high and low budget pieces. On instagram I also love Ashley from @biggerthanthethreeofus and Emily from @emilysuenetz (local gal!). I really enjoy reading Retro Den's blog, specifically the A-list Weekend Reading.
How would you describe your decorating style? I would say I have a layered or collected style. I'm constantly changing things around, moving things from room to room and finding new treasures to add into my rooms!
Do you have a process you follow when decorating a space? I like to have a general idea of what I want the space to look like, then I start collecting items (big and small) for the space. Currently we are getting ideas and inspiration for our office. Right now that space is a collect-all junk space and we will turn it into a multi-function music, sewing and lounge area!
Why do you think it's important to have vintage pieces in your home? I think having vintage pieces in your home adds so much character and warmth to a space. I get so many compliments on the vintage pieces I have, and it's fun to tell the story of where I found them.
Why do you think it's important, worthwhile to have a beautiful home? I get so much joy from my home. I love making it work for my family and I love making it a beautiful space to gather friends. I like to have fun with decorating my home and I think it shows!
What do you love about Tulsa right now? I am super excited for the Gathering Place to open!! I can't wait for some warmer weather and to take the kiddos there to explore!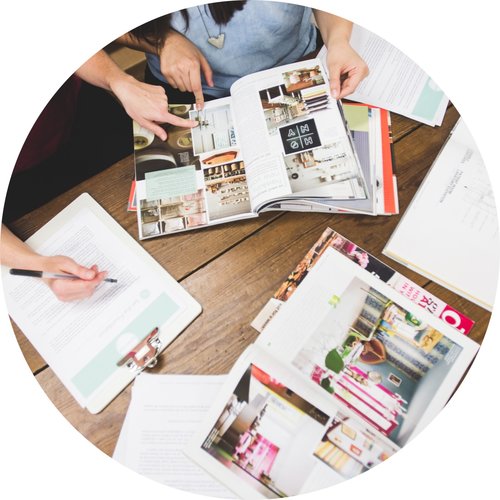 Get the survey we give to our home styling clients to know their homes better!