In my last post about my bedroom, I walked you through its evolution from dark brown walls with pink trim to a sparse, neutral, boho space with an uncertain future. I talked about wanting more color, a real bed frame and something interesting on the wall of windows. Well, in the months since we last spoke of my bedroom I have made large changes and I am SO MUCH HAPPIER with it now.
Besides identifying the things I wanted to add to my space (as mentioned above), my big revelation came from also realizing what I wanted to take away. I realized I wanted to take away my bedroom's boho. WHAT? You heard right. I wanted to un-boho my bedroom. Now you will see from the photos that I still have a giant piece of beautiful macrame in my bedroom (which I intend to keep forever and ever), so I didn't rid my room entirely of its boho feel. But I scaled it back big time. I'd say I went from 60% boho to 15% boho.
Though the popular bohemian look is beautiful and I am attracted to it, my home tends to feel off to me when it starts to have too many boho elements. For example, a few years ago I had three wicker side tables in my living room and I started to feel uncomfortable so I swapped two of them for simple modern ones. No longer uncomfortable.
So when I took inventory of my bedroom, I realized not only did it have macrame– it also had a rug pillow, a plant basket, and a boho looking rug. Three boho elements too many for me. BO-NO! (Daly begged me to include this joke). I started to plot my path towards scaling down the boho so that it was a nice statement in the room, not the overarching vibe. Thinking back to my uncomfortable living room situation, I decided to lean a bit modern.
The first big change was finally buying a bed frame. I asked you guys if I should go wood or upholstered and I heard upholstered loud and clear. Comfy, warm and cozy were all words I would like to describe my bed frame. Enter the Gus* Modern Carmichael Bed. It's as comfy as it is handsome. That tall upholstered headboard is so nice to lean against when watching Forensic Files.
Adding this streamlined modern (yet soft, warm) bed changed the whole look of the room. It gave it more structure and definition. It made the bedroom say, "I am a modern bedroom with boho accents" instead of "I'm a boho bedroom." I'm way more comfortable with this second statement.
Next, because of the Carmichael's large headboard, I had to float my nightstands out a bit from the wall. To make this feel normal, Daly suggested adding artwork just above the nightstands to make it all look intentional and embrace the depth! Enter the vintage water fowl artwork. For my birthday, I asked Patrick for this vintage two-toned wooden sailboat art (see below), so adding the wooden duck art was perfect. And we all know I love a good paint-by-numbers.
After hanging the two pieces of art on my side, I decided I'd keep my eye out for a piece for Patrick's side. I didn't know exactly what I was looking for, but I knew I wanted it to be horizontal, and in the same vein as the other artwork. Just a few weeks later while visiting friends in Kansas City we stopped into an antique mall and guess what the hell I found. A vintage two-toned wooden SWAN art. We have ducks AND A SWAN on the pond behind our house, so it was just stupid perfect. And the swan was even facing the right direction. HOW DID THIS HAPPEN?
Next, with artwork now on the walls, I swapped out my wall-mounted lamp and brought in a green desk lamp that used to belong to my dad. It had been sitting unplugged in the guest room gathering dust, so it was nice to have a reason to use it again. Plus, I love the green shade!
I then moved to the floor and put my boho-ish rug back in the entry way and brought in a vintage almost traditional looking rug with all the right colors. My room was getting less boho by the day!
To keep up the momentum I nixed the rug pillow and instead had Bianca of Owl & Drum order and create pillow cases for me using a green grid pattern fabric. I am in love with these pillows! The graphic pattern again brought more of a modern, structured feel to the space.
Though I'd brought in more color with the art, I wanted more! Enter the House Sparrow Fine Nesting knit-along. I signed up to knit a chunky sweater blanket with Tasha (creator of the giant macrame) and chose a mustard yellow color. I could just imagine this perfectly imperfect beauty of a blanket slug across my new modern bed and I knew it would be the perfect and final addition to my bed situation. It took 8 weeks, but I DID IT! I couldn't be happier with how it looks and feels.
Oh! I forgot to mention I moved the rocker to the opposite side of the room when we brought in the larger Gus* Modern bed frame. Though this move was based on pure function, it brought visual interest to that empty corner. Plus, as I discovered in my den last year, I love places to sit and admire different angles of my rooms.
To add further interest to this incomplete, boring wall, I added a slim plant shelf (at Daly's suggestion) under the window. This left plenty of room for Patrick to walk, but added life to that side of the room! I love it so so much. I highly recommend plant shelves you guys. Next, I enlarged a swan paint-by-numbers that I have in my dining room and framed it (does anyone else have two versions of the same artwork in their home??). Seating + plant shelf + artwork = much better.
So that's my story, folks. I un-bohoed by bedroom, and I'm not ashamed. If you'd like to un-boho your home, here are a few simple tips:
Put your plants in a pot, not a basket.

Limit your macrame intake.

Say farewell to your rug pillows.
Have you ever accidentally leaned too far into a certain style before realizing it wasn't for you? If so, how did you change it? Also, is it just me or has anyone else un-bohoed their home? PLEASE TELL ME (in the comments section after a few more photos below).
-Palmer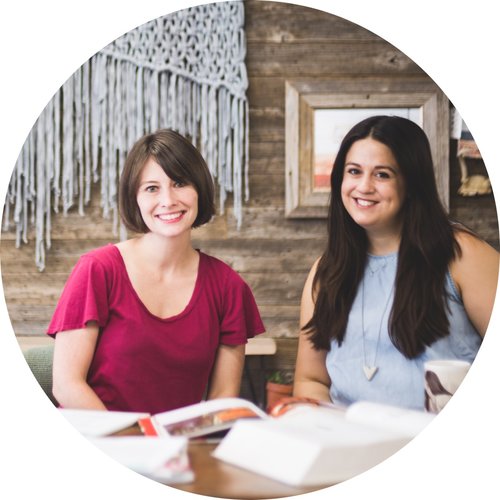 We do collaborative interior design…
We offer helping hands and a fresh perspective!