A charming, eclectic modern rental in Tulsa, OK
When customer Emily Faye purchased a yellow sofa and 70s leather chair and ottoman from us over a year ago, we had suspicions her home was a looker. We were right!
Emily and her cat Eowyn moved from Florida to Tulsa a year and a half ago for her job as an editor. Though she knew no one when she arrived in town, Emily has quickly made a life for herself here in Tulsa, which is probably due to her friendly personality and having a home she loves.
We are excited to share Emily's home with you as well as a Q&A about her style, where she finds inspiration and some of her favorite decor pieces. Enjoy!
What do you love most about your space?
I love the natural light that makes it feel so light and airy–and all that light is perfect for my plants. I also love the charm of an older home–the wood floors, freestanding bathtub, the detailed painted brick fireplace.
How would you describe your decorating style?
I guess maybe MCM meets boho? I try to mix contemporary styles like the paper IKEA lantern and the crisp clean lines of the metallic ampersand and the hanging floral fabric so that I don't get too grandma-y among all my quilts and kettles. The geometric light fixture and splashy shower curtain in the bathroom offset the antique sink and bathtub, for example. I think the plants and the maps, along with the brown leather chair, add a bit of boho vibe to loosen up the style.
How and when did you become interested in home design?
The funny thing is, I've never considered myself all that interested in home design; I just pick out things I like! In my last apartment, in Tallahassee, FL, I had several pieces I loved, but they didn't seem to quite fit together just right. Once I moved into this apartment here in Tulsa, I became much more interested in creating a curated space where everything clicked into place. I'm not sure I'd like to design someone else's space, because I generally just choose things I like to fill my home.
Why is having vintage important in a home?
I already like the look of vintage, but I also like feeling connected to my family, my grandparents. The handkerchiefs framed in the hallway belonged to my grandmother, and I also have a set of vintage 1970s dishes (Corelle Spring Blossom Green) from my aunt. I love the weight of history in each vintage piece.
A heartbreaking anecdote about vintage: When I was getting ready to move to Tulsa, my aunt asked me if I wanted an antique vanity...the little desk with the giant round mirror. It had belonged to her grandmother, my great grandmother. My aunt grew up sitting at that vanity as a small child, it was part of her childhood and a connection to her grandmother. For the past several years, it had been sitting in the garage because there wasn't room for it anywhere, but my aunt just couldn't part with it. I was amazed and grateful she wanted to pass along this heirloom! But of course, antiques are fragile, and during the process of taking the vanity out of the garage, it slipped and fell apart, the mirror completely shattered. Devastating. I never even had the vanity in my home, but I would have loved both the look and the visual reminder of my great grandmother.
Any tips for shopping vintage in Tulsa?
Always keep an eye out. Since many items are one of a kind, they can get snagged quickly. At the same time, be patient and keep checking back at your favorite vintage shops and antique malls–you never know what you'll find.
Also, keep an open mind. You can use vintage in different ways, like the kettle-turned-planter, an old scarf as a curtain, or a stove burner cover as wall art.
Where do you get your design inspiration?
Retro Den has a fantastic Instagram! Jo & June, also local, also has a great look. I'm obsessed with Apartment Therapy, although I often turn to the blog A Beautiful Mess for more affordable DIY inspiration. Domino Magazine. Instagram accounts @sunwoven, @kaitiemoyer / @mccarnbnb, @asformyhouse, #jungalow / #jungalowstyle hashtags
Why do you think it's important, worthwhile, to have a beautiful home?
For me, coming home to a space I love is an instant stress reliever. It makes me happy to walk in my front door and see pieces that are meaningful or beautiful, or to see light making a room absolutely glow. I put energy into making my home a space I love because being in that space in turn energizes me.
Name 2-3 of your favorite pieces in your home and tell us why they are your favorites.
The coffee table is a favorite because I made it. I feel so proud when I use it.
The set of drawers that look like a stack of suitcases was a gift from my mother. I have no idea where she bought it, but it's a great find! I love unique pieces like this that I can't find anywhere else...plus that particular item, like the maps, add a global feel.
My bookcases! I am a reader, but it's a bonus that books look good in a space.
Not sure if it counts, but I am in love with the philodendron hanging in the corner. The crisp white planter, the twine, the curling tendrils of leaves...I love the dreamy style and life it brings to the room.
Plus the yellow sofa, but I'll save that for the next question ;)
Favorite Retro Den piece?
The leather Percival Lafer chair & ottoman is super comfy, but the yellow sofa has my heart. It's definitely the centerpiece of my home.
Why do you love Tulsa right now?
I've only lived in Tulsa about a year and a half, but it's a fun town! Tulsa has great coffee shops and I also enjoy the music and art scene here. Cherry Street (hellooo Andolini's!) and Tulsa Arts District are both packed with fantastic restaurants and lovely shops. I'm so excited that we finally have an independent bookstore. (Now let's talk about getting a bit of sunny Florida's beaches up here...)
Source List:
Almost all the furniture is second hand. It's so fun to score a great find from an antique mall or Craigslist!

The gray dresser, white shell chairs, and headboard were all craigslist finds, the three-legged side table, the persian rug, and globe are hand-me-downs, and the bookcase with the scalloped edge was handmade by a family friend.

I made the coffee table with hairpin legs bought from Jade antique mall in Broken Arrow.

I found the hairpin plant stand at the Tulsa Flea Market.

The vintage window frame on the mantle is from The Other Side Vintage shop in Tallahassee, FL.

The DIY hanging fabric is Rifle Paper Co's Menagerie print, purchased from Owl & Drum.

Throw pillow covers are also made with fabric from Owl & Drum.

A couple of the plants are from Southwood.

Quilts are handmade, gray throw is from Target (similar), blue striped blanket is from Guatemala.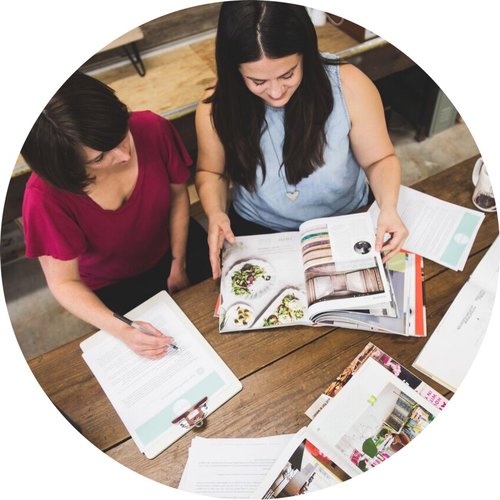 Understand you, your home and where you're headed!